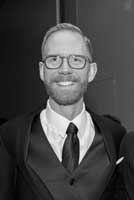 With boundless imagination and enthusiasm, Christopher Pressey is committed to the highest standards of creative and strategic excellence in everything he does. And he has fun doing it. Which means the people he works with get great results — and great fun, too.
As President of the Downtown Windsor Business Accelerator, Christopher has volunteered his network and entrepreneurial experience for the past 8 years to guide Windsor, Ontario's premier business accelerator through a tremendous growth phase, culminating in the purchase of a 55,000 sq. ft facility, and raising more than $2 million in funding.
As owner and Creative Director of Christopher Pressey Design, he's spent more than 20 years honing his creative craft. Christopher's roster of clients includes Crain Communications Inc, The Detroit Institute of Art, The Detroit Medical Center, as well as numerous startups and small businesses.
Christopher brings this combined business experience to the table as a partner in Art of Startup, Inc. Christopher provides brand advisory and consulting services related to all aspects of business branding, from public-facing messaging and client & user experience, to internal communications and methodologies.
Who Christopher is as a person is just as important as what he does as a professional. A serial optimist and entrepreneur, he's passionate about the world around him. Making a difference is just as important to him as making a living. Which only serves to influence his creativity in very human, sometimes unexpected, ways.